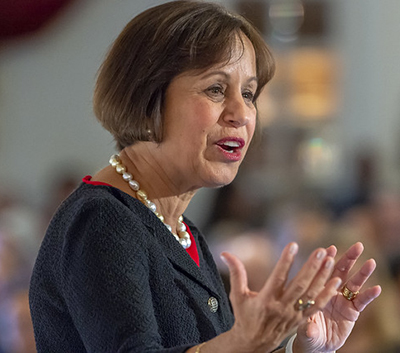 "Education presents each of us with a world of limitless possibility."
A new academic year always carries tremendous promise, and I hope you're as excited as I am by the energy on our campuses. You and your classmates are embarking on an unforgettable journey of intellectual growth and personal discovery. This catalogue is an important roadmap that will help you unlock the richness and breadth of academic offerings at the University of Southern California. 
For undergraduates, you have the opportunity to design a course of study that reflects your passions and curiosity. The exact road you take will be as unique as you are. You will learn alongside the world's finest minds in fields of study that encompass the range of human knowledge. USC's interdisciplinary focus and expertise across 23 academic units ensure that your learning will be as broad as it is deep. The connections you make with professors, advisers, and other students in our Trojan Family will prove a resource throughout your entire life. 
For our graduate students, you are on the way to become an expert in your chosen field, and you are doing so at one of the world's great universities, in the heart of a great American city. An advanced degree from USC will signal your mastery of knowledge needed to succeed in the most demanding fields. And it carries the potential of so much more. We encourage you to connect with your peers in other fields, and get to know our communities as much as possible, to make your learning truly well-rounded. 
Education presents each of us with a world of limitless possibility. As you take the next steps in your academic path, I encourage you to meet people outside your usual sphere, to study subjects you perhaps never thought of previously, and to open your mind and heart to the vast opportunities that exist around the next corner.  
I hope to see you on our campuses as we make our way through the school year. If our paths cross, I encourage you to say hello. In the meantime, please accept my sincere hope that your USC course choices will bring you a future that is inspiring, intellectually stimulating, and endlessly rewarding. 
Carol L. Folt
President