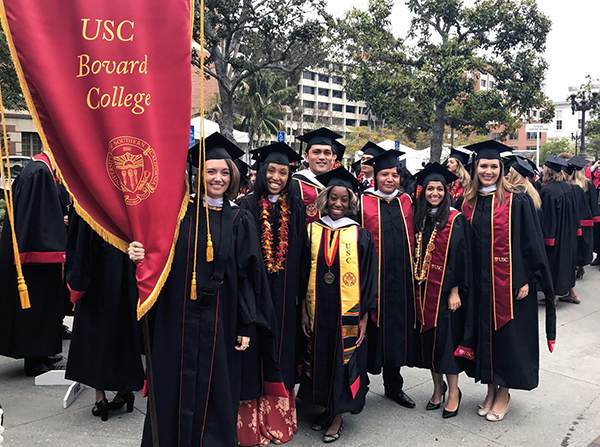 Graduates of the Master of Science in Human Resource Management program at USC Bovard College line up for the Commencement Ceremony.
Photo courtesy of USC Bovard College.
---
USC Bovard College graduate programs are designed to provide professionals with specialized knowledge and skills to advance their careers in a student-centered and supportive learning environment. Our graduate programs include an MS in Criminal Justice, an MS in Emergency Management, an MS in Hospitality and Tourism, an MS in Human Resource Management, and an MS in Project Management, which were designed by some of the most influential minds in their respective professions.
Founded in 2015, the USC Bovard College is proudly named after Emma Bovard, one of the first students to enroll at USC in 1880 and an early advocate for equal access to quality educational opportunities. In addition to providing rigorous graduate programs for professionals in flexible, convenient formats, USC Bovard College supports individuals during key academic and career transitions through programs such as USC Summer Programs and USC Bovard Scholars.
USC Bovard College
1150 S. Olive Street, SCT-300
Los Angeles, CA 90089
(213) 821-3000
info@bovardcollege.usc.edu
Administration
Anthony Bailey, Dean
John Keim, Chief Academic Officer
Gregory Vigil, Chief Operating Officer
Shamir Patel, Director of Admissions
Faculty
To see our MS in Criminal Justice faculty, click here.
To see our MS in Emergency Management faculty, click here.
To see our MS in Hospitality and Tourism faculty, click here.
To see our MS in Human Resource Management faculty, click here.
To see our MS in Project Management faculty, click here.
Master's Programs
Admissions Overview
USC Bovard College completes a comprehensive review of all applications. We do not use a formula. Successful applicants will have demonstrated academic and professional success.
Applicants must have:
A bachelor's degree from a regionally accredited college or university, or foreign equivalent.
For international applicants, a valid score on the Test of English as a Foreign Language (TOEFL), International English Language Testing System (IELTS) or Pearson Test of English (PTE).
Application Materials
Complete and submit your Graduate Admissions Application online. Within the application, you will need to provide the following application materials:
Résumé: Up-to-date professional résumé or curriculum vitae
Letters of Recommendation: 2-3 letters of recommendation
Statement of Purpose: 1-2 page essay addressing why you are pursuing this degree, how this program will help you in your career, and why the program at USC is a good fit for you
Transcripts: Open, scan and upload official transcripts from each undergraduate institution you have attended directly to the application portal. Additional information on transcript submission can be found here.
Submit your application with a $90 application fee. Fee waiver eligibility information is located here.
Master's Degree
Criminal Justice
Emergency Management
Human Resource Management
Hospitality and Tourism
Project Management