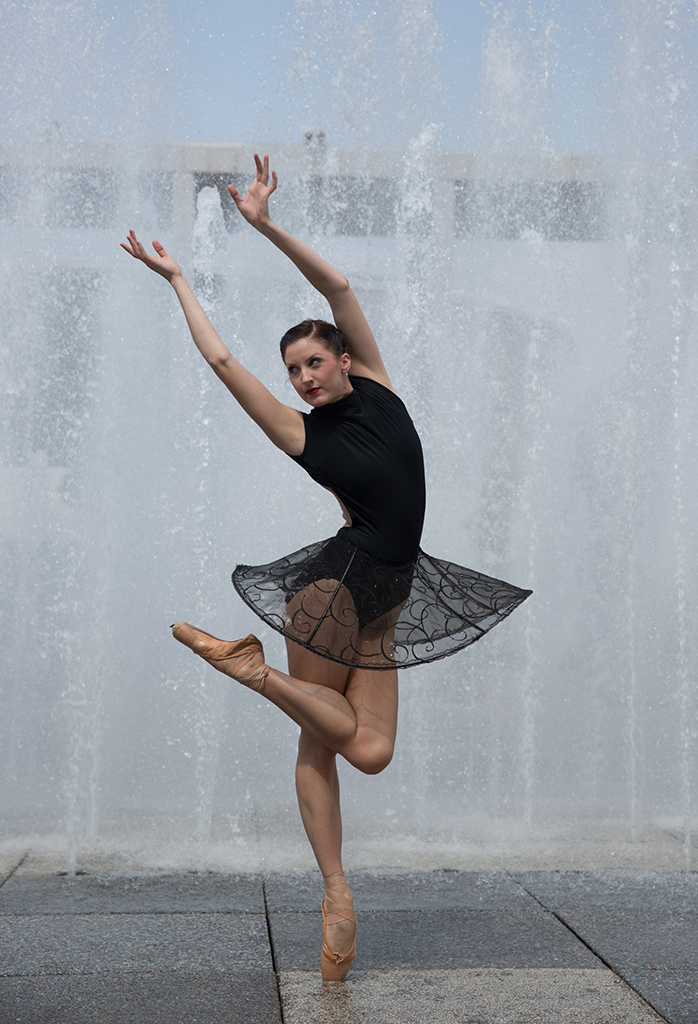 Established in 2012, the USC Glorya Kaufman School of Dance offers students a rigorous curriculum within a conservatory style environment. Students have opportunities to study and collaborate with world-renowned artists. USC Kaufman welcomed its inaugural cohort of BFA candidates in the fall of 2015. Photo by Rosalie O'Connor.
---
The USC Glorya Kaufman School of Dance is the newest school at the University of Southern California. Founded in 2012 by a transformational gift from visionary philanthropist Glorya Kaufman, whose commitment to dance and dance education is widely celebrated in both the United States and abroad, USC Kaufman offers a wide variety of classes in a range of dance styles, from ballet to hip-hop, contemporary dance and ballroom. Classes are available to all USC students.
USC Kaufman offers a Bachelor of Fine Arts degree to a select number of highly competitive undergraduate students. This four-year degree will be housed in the Glorya Kaufman International Dance Center, which is scheduled to open in Spring 2016. Applications to the BFA program are due December 1 of each year.
The BFA curriculum is designed to prepare students to be artists, innovators and entrepreneurs. The hallmark of USC Kaufman is the development of a new movement model for dance, where intersecting dance techniques create hybrid forms to be expressed in new media, scholarship, studio practice and choreography. USC Kaufman provides students with foundational insight into the creative process, nurtures personal intellectual and artistic development, offers a robust performance repertory and emphasizes the importance of conditioning for dancers and physical wellness. An unparalleled world-class faculty facilitates student interaction with renowned, practicing artists; engages students in interdisciplinary projects; and prepares students for successful futures by providing strategic career venture skills. With opportunities for interdisciplinary study interwoven into the curriculum, students are able to explore collaborations and innovations with established partners, including Glorya Kaufman Presents Dance at the Music Center.
USC Kaufman offers two minors in dance, which serve as thought provoking supplements to major fields of study in other departments and schools. Students may minor in (1) Dance, or (2) Dance in Popular Culture: Hip-Hop, Urban and Social Dances. Information about how to apply for a dance minor is available at kaufman.usc.edu.
USC Kaufman School of Dance
837 Downey Way, STO 327
Los Angeles, CA 90089-0851
(213) 740-9327
Email: uscdance@usc.edu
Administration
Robert A. Cutietta, DEd, Dean
Jodie Gates, Vice Dean and Director
Faculty
Professor: Jodie Gates
Professor, Artistic Adviser: William Forsythe
Associate Professor: Margo Apostolos, PhD
Assistant Professor of Practice: Patrick Corbin, MFA
Assistant Professor of Practice: E. Moncell Durden
Assistant Professor of Practice: d. Sabela Grimes
Assistant Professor of Practice: Jackie Kopcsak, MFA
Assistant Professor of Practice: Thomas McManus
Lecturers: Jesus Fuentes; Saleemah Knight; Angeliki Papadakis
Artists in Residence: Zippora Karz; Fiona Lummis; Victor Quijada; Desmond Richardson
Undergraduate Degree
General Education Requirements
The university's general education program provides a coherent, integrated introduction to the breadth of knowledge you will need to consider yourself (and to be considered by other people) a generally well-educated person. This program is effective for all students entering USC in fall 2015 or later, or transfer students beginning college elsewhere at that time and subsequently transferring to USC. It requires eight courses in six Core Literacies, plus two courses in Global Perspectives (which may double-count with courses in the Core Literacies) and two courses in writing. For more information about USC's general education requirements, see General Education .
Entrance to the Degree Program
Admission to a degree program is granted through USC's admission process, described in the Admission section of this catalogue. A supplementary application is also required for students seeking admission to the USC Glorya Kaufman School of Dance, which is submitted online.
Audition
A performance audition is required of applicants to the BFA degree program in the USC Glorya Kaufman School of Dance. Refer to individual curriculum listings for details.
Bachelor's Degree
Minor