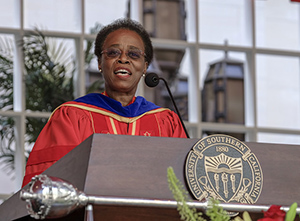 "This catalogue will help you determine your academic path at the University of Southern California. The classes offered by our Dornsife College of Letters, Arts and Sciences, the Graduate School, and 20 professional schools comprise an expansive set of options, and will enable you to pursue a USC education that reflects your passions and your curiosity.
To our undergraduates: Your advisers and professors are here to support you as role models and mentors. They will provide guidance as you investigate different disciplines to build a unique course of study. One of USC's strengths is a focus on interdisciplinary education that encourages the combination of seemingly divergent majors and minors. As you encounter new intellectual, creative and social experiences, I hope you will take advantage of these crucial opportunities for growth, including those outside the classroom, such as USC's Visions and Voices events. 
To our graduate students: Your courses will not only deepen your knowledge in your chosen field, but also sharpen your critical thinking skills. As you delve into your area of expertise, we urge you to connect with your peers in other fields. These relationships will contribute greatly to the diversity of ideas in your own work, and in the collaborations formed on our campuses.
The education you receive at USC will prepare you to succeed in a world that places great importance on professional versatility. We encourage you to meet each new experience with an open mind, and make bold choices as you pursue an education that allows you to design a fulfilling future."
Wanda M. Austin
Interim President