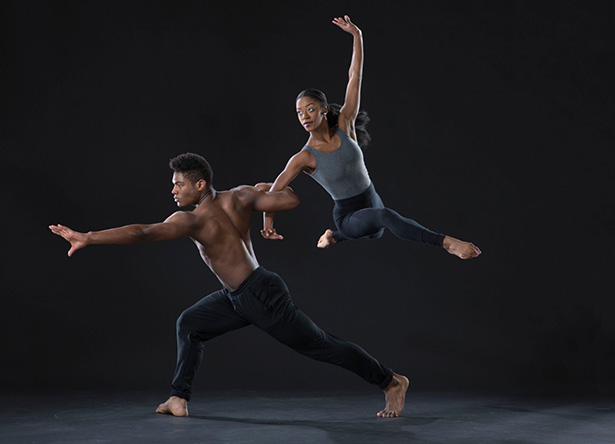 The USC Glorya Kaufman School of Dance expands USC's signature as a world-class research institution with a deep commitment to the arts. With its innovative vision for arts education, USC Kaufman moves to the forefront of developing dancers, choreographers and leaders for the future. The newly built, state-of-the-art Glorya Kaufman International Dance Center is the home of the school and the largest facility dedicated to dance at any private university.
BFA in dance students Sidney Chuckas (Class of 2021)  and Lenai Wilkerson (Class of 2019). Photo by Rose Eichenbaum.
---
The USC Glorya Kaufman School of Dance is as an epicenter of excellence in the interdisciplinary study of dance creation and performance. The exciting opportunity to create a new school brought the chance to rethink the professional dance degree. Dance is an increasingly dynamic art form, and the professionals who will shape the future of the field need the flexibility to move seamlessly between dissolving boundaries in the world around them: to embrace innovation with tradition, technology with history, classical with new dance forms. To meet that need, USC Kaufman created a new model for dance in which intersecting dance techniques create hybrid art forms expressed in new media, scholarship, studio practice and choreography. The vision is The New Movement.
The Bachelor of Fine Arts in Dance provides a rigorous conservatory experience at one of the world's leading private research universities. The BFA curriculum provides foundational insight, intellectual and artistic development, a robust performance repertory, exposure to world-renowned practicing artists, interdisciplinary projects, as well as conditioning for dancers and strategic career venture skills. 
USC Kaufman has assembled one of the nation's top faculty, a group of artists unparalleled in their depth and diversity of experience and talent, including esteemed professionals in the field, such as Patrick Corbin (Contemporary Technique and Paul Taylor Repertory), d. Sabela Grimes (Hip Hop Culture & Funkamentals), Jackie Kopcsak (Ballet Technique and Pointe), Thomas McManus (William Forsythe Improvisational Technologies) and Vice Dean and Director Jodie Gates (Contemporary and Classical repertory). Additionally, USC Kaufman's teaching philosophy includes opportunities for BFA students to work with our Artists in Residence, including Desmond Richardson (Complexions Contemporary Ballet), Victor Quijada (RUBBERBANDance), Fiona Lummis (Jiří Kylián Repertory) and Zippora Karz (George Balanchine Repertory). The USC Choreographic Institute, advised by USC Kaufman faculty member and celebrated artist William Forsythe, is unique among similar initiatives in the United States, and provides artists with research opportunities and foundational insight into the creative process.
Established partnerships with Hubbard Street Dance Chicago, Glorya Kaufman Presents Dance at the Music Center, Dance Camera West, the USC Division of Biokinesiology and Physical Therapy, the USC Thornton School of Music, and the USC School of Cinematic Arts afford significant collaborative experiences with acclaimed artists, scholars and institutions. The school's location in Los Angeles, a global center for the arts and entertainment, provides additional artistic and professional opportunities.
In addition to its BFA, USC Kaufman offers a wide variety of classes open to all USC students. Technique classes are offered in Ballet, Contemporary, Jazz, Hip Hop, Afro-Cuban, Tap, Bollywood and Ballroom. General Education courses on the history and culture of dance provide a rewarding introduction to the field. Minors in Dance; Hip Hop, Street and Social Dance Forms; and Dance in Entertainment serve as thought-provoking supplements to majors in other schools.
USC Glorya Kaufman School of Dance
Glorya Kaufman International Dance Center
849 West 34th Street
Los Angeles, CA 90089-3521
213-740-9327
Email: uscdance@usc.edu
Administration
Robert A. Cutietta, DEd, Dean
Jodie Gates, Vice Dean and Director
Faculty
Professor: Jodie Gates
Claude and Alfred Mann Professor of Practice: William Forsythe
Associate Professor of Dance: Margo Apostolos, PhD
Assistant Professors of Practice: Patrick Corbin, MFA; Alison D'Amato, PhD; E. Moncell Durden; d. Sabela grimes, MFA; Jackie Kopcsak, MFA; Bruce McCormick, MFA; Thomas McManus, MFA; Jennifer McQuiston Lott, MFA; Dawn Stoppiello, MFA
Adjunct Assistant Professors of Dance: Saleemah Knight, MFA; Bonnie Oda Homsey, MFA
Lecturers: Tiffany Bong; Bret Easterling; Gillian Finley; Jesus Fuentes; Shannon Grayson; Anindo Marshall; Achinta S. McDaniel; Christian Vincent, MFA
Artists in Residence: Aszure Barton; Marjani Fortè-Saunders; Zippora Karz; Fiona Lummis; Barak Marshall; Victor Quijada; Desmond Richardson; Jermaine Spivey
Bachelor's Degree
Minor